How it Works

Set up your virtual legal practice
Sign up for free, set up your virtual practice, offer your legal skills to our user base. Work when you want and from anywhere.

Virtual Connection
Get instantly notified when matched with a user and offer your services through our "Virtual Office"

Easy Income
No tire kickers here - fully vetted users, get a deposit upon matching and get fully paid upon completion of work.
What is a "Virtual Office"?
LawVo [Law Virtual Office]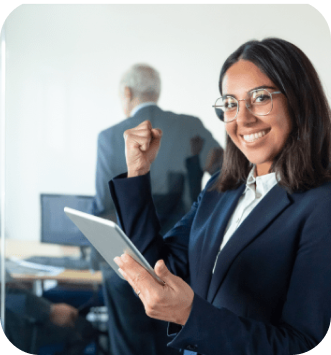 LawVo's virtual office gives legal professionals all the benefits of a 'brick and mortar' location without the expense of renting an actual office. A virtual office solution saves on overheads, as there is no need to rent physical space, buy equipment and furniture, or hire a receptionist or staff. Have the benefit of more free time and flexibility as you work when you want and from anywhere.
What is included in my Virtual Office:
Accounting, Invoicing, Payment Solutions
Marketing
Chat, Video Conferencing, Calendaring
Verification and Identification–AI-powered identity verification and KYC solution without compromising compliance and identity fraud prevention
Frequently Asked Questions
Lawyers and paralegals register on our platform to have access to prospective clients at no cost. Part of the registration process includes a thorough and vigorous vetting process to ensure that the lawyer has the requisite competency and skill to deliver legal services in a particular field and has a stellar professionalism record with the local legal regulatory authority.
If you are not satisfied with you work product you can send us a note through our dispute resolution process which can be found at the following link on our platform outlining the issue or your complaint which will be investigated within 24-48 hours to determine resolution up to and including a full refund.
Yes, once the transaction is completed you will be asked to rate each other out of 4 stars and have an opportunity to provide an additional comment which will then be shared publicly on the platform as we feel per review is an integral part of an online marketplace.